ALDER #2 RATES

VALUE SEASON
Apr 1 - Apr 30
Nov 2 - Dec 25

MID SEASON
Mar 9 - Mar 31
May 1 - May 10
Oct 19 - Nov 1
State Tax and Gratuities Additional.
All rates, fees and policies are subject to change without notice.

* Base Rate is for 4 Guests. Extra Guests are $42.00
per person per night. Kids 16 and under stay free!

Maximum Occupancy is 6.
Cancellation Policy: Deposits are refunded if cancellation is received 14 days prior to your scheduled arrival, less a $5.00 cancellation fee.

If cancellation is less than 14 days notice, we will
refund your deposit only if we rent your vacant reservation.

No refund for early departures.
___________________________________________

Holiday Periods for 2014: Christmas / New Years: Dec. 26 to Jan. 1,
Martin Luther King Day: Jan. 18 to Jan. 21, February Vacation: Feb. 3 to Feb. 28
Memorial Day: May 24 to May 27, Labor Day: Aug. 30 to Sept. 2
Columbus Day: Oct. 11 to Oct. 14
Enter the name for this tabbed section:
Information
"Whataview"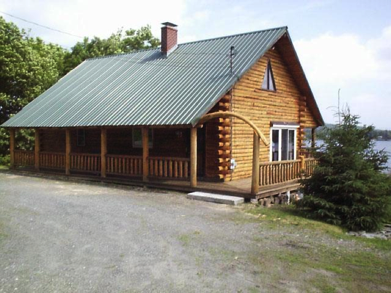 Tall Timber's Whataview is a beautiful log cabin with massive log beams located on Spooner Road, just a five minute drive around the lake from the main lodge. It is a short distance from our two luxury houses on Back Lake in Pittsburg NH, Angler's Cove and Bess.

Whataview comes equipped with telephone, cable tv, DVD, VCR and gas grill. The master bedroom has a king bed while the loft has two queen beds, one full and one twin. Whataview is completely furnished including kitchen supplies, linens and towels, a fully equipped kitchen, microwave and dishwasher.

Whataview has one and a half baths; the bathroom off of the master bedroom has a tub. It also has it's own boat dock, so you can rent one of ours or bring your own - the public launch on the lake is a short drive away. Did we mention the view - it's a fantastic vista of the lake and north country landscape!

There is no maid service and pets are not allowed at Whataview. Beds: 5. Sleeps: 6.
Enter the name for this tabbed section:
2014 Rates
ALDER #2 RATES

PEAK SEASON
Dec 26-Mar 8
May 11-Oct 18
State Tax and Gratuities Additional. All rates, fees and policies are subject to change without notice.

* Base Rate is for 4 Guests. Extra Guests are $42.00 per person per night.

Kids 16 and under stay free! Maximum Occupancy is 6.
________________________________________
Cancellation Policy: Deposits are refunded if cancellation is received 14 days prior to
your scheduled arrival, less a $5.00 cancellation fee.

If cancellation is less than 14 days notice, we will
refund your deposit only if we rent your vacant reservation.

No refund for early departures.
_________________________________________
** Holiday Periods for 2014:
Christmas / New Years: Dec. 26 to Jan. 1
Martin Luther King Day: Jan. 18 to Jan. 21
February Vacation: Feb. 3 to Feb. 28
Memorial Day: May 24 to May 27
Labor Day: Aug. 30 to Sept. 2
Columbus Day: Oct. 11 to Oct. 14