ALDER #2 RATES

VALUE SEASON
Apr 1 - Apr 30
Nov 2 - Dec 25

MID SEASON
Mar 9 - Mar 31
May 1 - May 10
Oct 19 - Nov 1

White Birch Apt. #1
Silver Birch Apt. #2
State Tax and Gratuities Additional.
All rates, fees and policies are subject to change without notice.

* Base Rate is for 2 Guests. Extra Guests are $42.00
per person per night. Kids 16 and under stay free!

Maximum Occupancy is 5.
Cancellation Policy: Deposits are refunded if cancellation is received 14 days prior to your scheduled arrival, less a $5.00 cancellation fee.

If cancellation is less than 14 days notice, we will
refund your deposit only if we rent your vacant reservation.

No refund for early departures.
___________________________________________

Holiday Periods for 2014: Christmas / New Years: Dec. 26 to Jan. 1,
Martin Luther King Day: Jan. 18 to Jan. 21, February Vacation: Feb. 3 to Feb. 28
Memorial Day: May 24 to May 27, Labor Day: Aug. 30 to Sept. 2
Columbus Day: Oct. 11 to Oct. 14
Enter the name for this tabbed section:
Information
"White Birch" & "Silver Birch"
(Apartment #1) & (Apartment #2)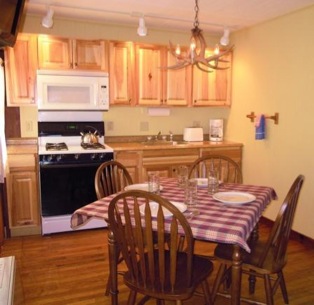 Silver Birch Apartment #2 Kitchen


The lakefront west wing of the Main Lodge at Tall Timber consists of the two "Apartments." The original Lodge, which later became the famous "Dance Hall." They are both located on the ground floor and received many living room, kitchen, bathroom and bedroom upgrades late last year. Both White Birch and Silver Birch are a short distance from the water's edge at Back Lake in Pittsburg, NH.

One bedroom has one queen bed, the other has one double and one twin. Both White Birch and Silver Birch are completely furnished including kitchen supplies, linens and towels, color tv's, fully equipped kitchens, and bathrooms with showers. Beds: 3. Sleeps: 5.
Enter the name for this tabbed section:
2014 Rates
ALDER #2 RATES

PEAK SEASON
Dec 26-Mar 8
May 11-Oct 18

White Birch Apt. #1
Silver Birch Apt. #2
State Tax and Gratuities Additional. All rates, fees and policies are subject to change without notice.

* Base Rate is for 2 Guests. Extra Guests are $42.00 per person per night.

Kids 16 and under stay free! Maximum Occupancy is 5.
________________________________________
Cancellation Policy: Deposits are refunded if cancellation is received 14 days prior to
your scheduled arrival, less a $5.00 cancellation fee.

If cancellation is less than 14 days notice, we will
refund your deposit only if we rent your vacant reservation.

No refund for early departures.
_________________________________________
** Holiday Periods for 2014:
Christmas / New Years: Dec. 26 to Jan. 1
Martin Luther King Day: Jan. 18 to Jan. 21
February Vacation: Feb. 3 to Feb. 28
Memorial Day: May 24 to May 27
Labor Day: Aug. 30 to Sept. 2
Columbus Day: Oct. 11 to Oct. 14